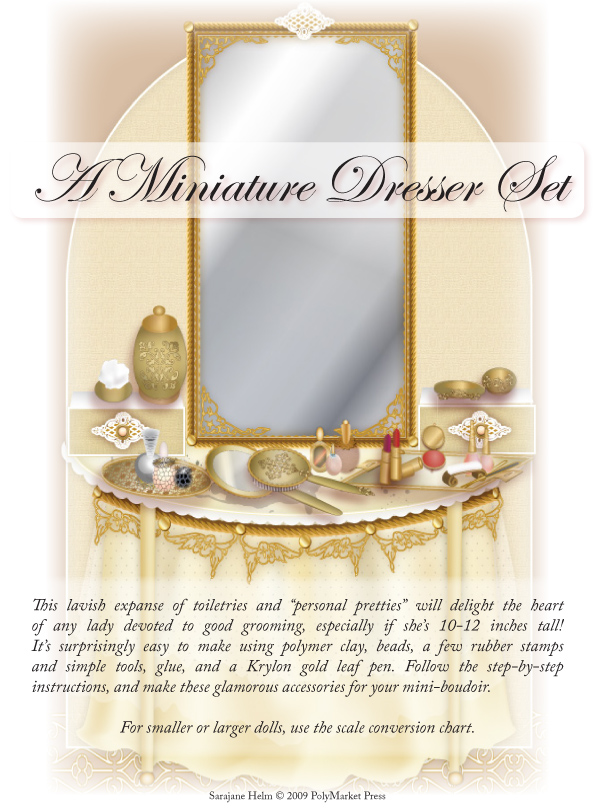 Discover how to make a miniature vanity set that includes a tray, comb, brush, hand mirror, powder & puff, nail polish, nail file & buffer, blush compact, lipstick, several perfume bottles, and bracelets for your fashion doll! Here is a  nine page PDF document that details how to do it. The scale conversion chart included makes it easy to create this set for any size dolls. With original, easy to follow instructions written by Sarajane Helm and lavishly illustrated with vector graphic images created using Adobe Illustrator. Create this set for your favorite doll!
You will need:
2 oz. white polymer clay

2 oz. gold polymer clay

Marble sized amount of red polymer clay

Small (3/4″) round aluminum foil circle

Krylon gold leaf pen

Gold Pearl-Ex powder

Talcum powder or cornstarch

Assorted beads>

Small piece of cotton ball

Small amount of Varathane Polyurethane

Xacto knife or knife with flat edge

Roller, brayer or small jar

Toothpick

Kemper  or other small circle cutters

Clean, soft paint brush

Cyanoacrylate glue (Superglue) or E6000 (epoxy glue), white glue

Decorative button or rubber stamps

Index card or ceramic tile

Wooden mallet is useful to condition Kato Polyclay

Oven, thermometer and potholder
Thumbnail versions of each page are shown here. A link to the PDF will be emailed to you after purchase.  The file can be read with Adobe Acrobat Reader, a free download, or printed if you choose.